HOW ARE CRE AGENTS USING DATA EXTRACTED FROM INVESTMENT BROCHURES?
Data held within investment brochures is a valuable asset and can be used to make a variety of business decisions. We count down the top five reasons CRE agents are extracting this data using our PDF Extractor tool, and how they're using it to improve their business processes.
1: IDENTIFYING LEASE BREAKS, EXPIRIES AND RENT REVIEWS
In order to win new business it helps to know when the right time to contact a landlord or freeholder is. Having access to competitor lease events gives agents an advantage as they know when occupiers may be looking to move and so can offer their services to the landlord in finding new tenants. Knowing when a rent review is due provides an opportunity for an agent to offer to help in negotiating a better rate, or finding a lower risk tenant for the landlord.
2: ACCESSING TENANT AND LANDLORD DATA
While it's advantageous to know when the key lease dates are, it's also important to know who the tenants and landlords are. Not only does this provide contact details, this information can prove useful for other properties an agent may have on their books. Plus the landlord may have a portfolio of other properties which they need help sourcing tenants for.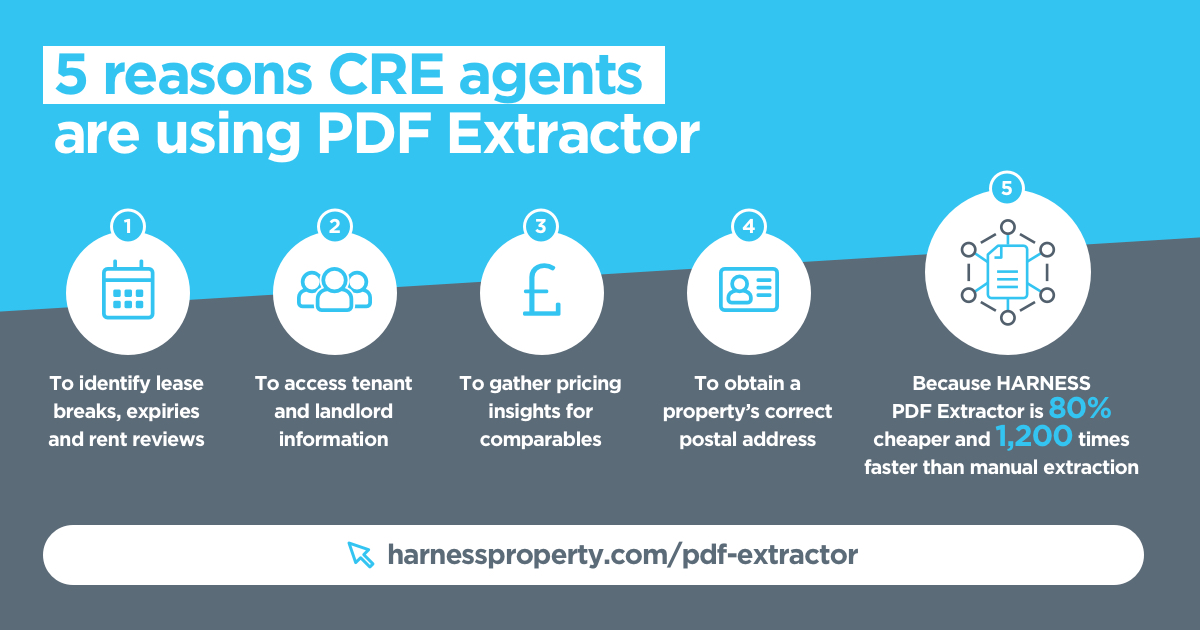 3: GATHERING PRICING INSIGHTS
The information in tenancy schedules can be used to assist with valuations and rent reviews. By collating information on pricing and property specification it allows agents to create a bespoke comparable database to provide evidence and benchmarking when valuing other properties.
4: OBTAINING THE PROPERTY'S CORRECT POSTAL ADDRESS AND UPRN
New developments are often given a marketing style address in the investment brochure, which can create problems for record keeping and the accuracy of an agent's CRM system if data extracted from an investment brochure isn't captured against the actual property. To maintain database accuracy some extra investigative work is often required to find the official address for the property, however our PDF Extractor can find and return the accurate postal address and the UPRN. The inclusion of the UPRN means the property data is ready to be imported into Radius Data Exchange (if an agent subscribes to that service), and provides a common identifier so that other datasets can be connected to the property record.
5: SAVING TIME BY USING OUR PDF EXTRACTOR TOOL
While there are a number of reasons agents need to access data held in CRE investment brochures, it can be a time consuming and a repetitive manual task to get hold of it. We've built PDF Extractor specifically to save clients time, and money, and improve accuracy when compared to manual extraction. And as we match extracted addresses to the proper postal one it's 'Radius ready' for importing directly into your CRM system for use.